Asseco Business Solutions was described in the prestigious Gartner report, Vendor Panorama 2013, as one of the most important vendors of SFA systems for the FMCG industry. What does that mean for your company and for your clients?
We are glad that a renowned global consulting company included us among the top vendors of sales force automation and retail execution software. Our presence in the Gartner report is an extremely important token of recognition for Asseco BS. It shows that our vision of growth yields results and that the path we chose over 15 years ago is right. In this time, we have been able to provide our clients with top quality systems, and our main objective has been for the users to be able to see real benefits resulting from their implemented solution. Let me remind you that our modern SFA/CRM solution, Mobile Touch, which was assessed so highly by the Gartner experts, builds on the legacy of years of experience and hard work. From the clients' perspective, the report is certainly a reliable source of information and proof that they are using a world-class solution and partner with one of the global SFA business leaders.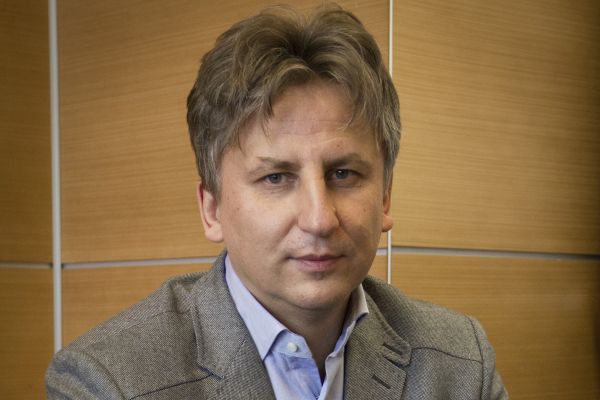 Piotr Masłowski Vice-President of Asseco Business Solutions

In the report, your company and its SFA systems were ranked very high in most categories. What areas of Asseco BS's activity and what features of your products were most appreciated by Gartner?
We received top scores in categories such as geographic strategy, responsiveness to market needs and track record, market understanding, industry strategy, the use of technology partners and the vision. With regards to product ranking, our solutions were top-rated for their adaptation and flexibility, completeness, user experience, analytical capabilities, vision and configurability. Gartner of course evaluates not only the product but also its vendor. They look for the value of the product but also the way it is used.
We believe that what sets us apart from other vendors is a coherent and mature offering, responsiveness to the needs of multinational corporations, operating both domestically and globally, and a profound knowledge of the European market. They are a result of many years of experience working with the FMCG leaders in 21 countries. Thanks to this, we have got to understand the business models and needs of many diverse organisations as well as legislative rules and regulations across European markets, which are still considerably different from one another. What also makes us different is also our ability to listen to our clients. We do not just carry out implementations based on our clients initial specifications. We always attempt to understand their challenges and find the best way to tackle them. We ask them why they want to implement the solution and what they want to gain from it. We aim to be a trusted business partner, bringing in our expertise, experience and knowledge of the markets, rather than just passively following the client's instructions. We believe that the market and our clients expect us to share our knowledge and help them better understand their needs and propose viable solutions.
We believe that we also stand out because of our flexibility - it allows us to manage even the most challenging business projects. Mobile Touch is a modern platform which covers all the relevant FMCG processes. The platform is set up to meet the needs of local markets, without ignoring the global strategies of FMCG leaders, and promote innovative approaches on the FMCG market, such as RAO (an ability to optimise operations and increase efficiency while using the same resources) and Perfect Store (a concept of the so-called "ideal store" designed to achieve the best results at the point of sale by following pre-established performance standards).
In their report, Gartner also spoke highly about our vision of further development. We have been gradually and consistently extending our presence across Europe. We are now also gearing up, both organisationally and technically, to extend our reach in Europe and further out.
You provide SFA systems to hundreds of clients, including top global FMCG players. Can you say what criteria determine the choices of FMCG companies when choosing a mobile application?
The criteria used by Polish companies are sometimes slightly different than those chosen by global corporations in other European countries. There are still times in Poland when companies consider only the price of the system. We believe that this is a serious error, likely to have an adverse impact on the business. Any company researching the market for the best solution should look for the best and not the cheapest product. Only those systems can produce the desired value and promise the achievement of expected benefits. Focusing on price only, no organisation will ever be able to fully unlock its potential, and the chosen system may end up being the wrong solution for them. Our experience shows that many companies are unable to list all their SFA requirements before the implementation. Only after some experience working with the system for a period of time, they become aware of their specific needs and are able to list a precise range of business processes which should be covered at their current stage of development. To help this, we often encourage our potential clients to undertake a free pilot implementation of our systems to get to know the product and discover the value of the solution and us - the vendor.
Multinationals seeking sales force automation solutions that can be operated across various geographies look at whether the system can fit with the specific character of local markets in which they operate, while being able to handle global processes as well. Recently, we are seeing a growing interest in this model of cooperation amongst many large FMCF players. Our response to these requirements is Mobile Touch, a platform that lends itself to an extensive customisation of both local and global processes.
When clients evaluate vendors, they assess them for reliability, relevant experience and proven methodology, flexibility, stable position, and problem-solving abilities. Combined, the two factors: a good product and a reliable partner can guarantee success for an SFA software user.
You have extensive experience in SFA systems. Your applications are used by more than 20,000 users daily. How do you think the market for such solutions will evolve? What new features will we be seeing in this type of systems over the next few years?
It is a very interesting question as it shows the scale of our operations and the number of clients that we serve. With so many active users served on the daily basis, we have been able to gather extensive knowledge of the market and the future trends.
We already know that this market is becoming increasingly challenging. Increasing your market share and boosting sales through organic growth is more difficult than ever before. Existing actors can either try to win the market share from the competition or launch new products onto the remaining market niches. For some time, Poland has seen a systematic consolidation of the distributor market, which increasingly includes new forms and terms of cooperation between manufacturers and distributors. Also the role of the sales representative is evolving: they are no longer just a sales rep - instead, they become "sales developers." A natural trend that we should be seeing in the near future will be the reduction of own mobile sales force and shift to an outsourced model. I think that all manufacturers now realise that the market success of a product depends almost entirely on the consumer, a typical Mr or Mrs Jones who needs be exposed to a timely and properly managed set of promotional activities in store, more specifically on the shelf, because that's where they're taking their purchasing decisions. For the mobile sales personnel, "winning at the shelf" means something completely different than a few years ago.
That is why the SFA system vendors are now facing completely new challenges. We believe that in designing new IT solutions we need to look for fresh ideas, such as the aforementioned RAO or Perfect Store. SFA solutions must become trusted sources of information for the mobile sales forces. The system is not just there to record events but to suggest and prompt the user to take specific actions. For example, when your market share in a specific category or your sales figures in a specific store are on the decline, the system must be able to suggest how this negative trend can be upturned by prompting a specific action. IT tools will become the creators of events. They will also be capable of verifying completed activities, determining whether we are successful in a given area and suggest what should be improved.
SFA systems must also be flexible enough as the market is not the same everywhere and the sales representatives do not follow the same procedures in every region and sales channel, which is a global problem today. For example, depending on the geography, the sales processes and any related problems faced by the sales representatives can vary even within the same global organisation. Therefore, SFA software will have to be ready to automatically assign appropriate tasks to different sales channels, regions and mobile workforce teams. Such challenges must be anticipated and such features must be developed by vendors in the near future. We will definitely be doing it because we believe that such features and applications will bring a real added value for our clients.
Over the past 15 years, you have implemented your SFA systems in 21 European countries. Are you planning to go even more global? What makes the Polish IT solutions so valued on the global market?
Yes, we are planning to increase our international reach, it goes without saying. In the recent years we have put a lot of effort and commitment to build and refine our latest Mobile Touch system, leveraging touch-screen technologies; we want to capitalise on this potential. We have invested a lot of time and money, so the expansion to new markets is a natural consequence. Our solution receives very positive feedback from our clients and has been praised in the 2013 report by Gartner.
For IT systems to gain recognition on the global market, they must be groundbreaking and flexible, as is Mobile Touch. Vendors must get closer to their clients by acting as their partners and business advisers. I do believe that Polish companies that aspire to go global are very aware of this and are also consistently pursuing their ambitious goals. Compared to many Western countries, we had very little time to learn the business – free market economy in Poland began in the late 1980s. I think that the industriousness combined with a flair for business and great work ethic is a unique mix which contributes to the success of Polish companies on the global marketplace.
Poland abounds in talented programmers who can create absolutely extraordinary things. We know it from our own experience. There is nothing to be ashamed of when we compare ourselves to foreign companies.
What is the awareness of innovative technology on the Polish FMCG market compared to other countries?
I believe that Poland is a country of modern mobile sales forces. The sales representatives in our country have been using sales support systems for more than ten years now. We are among the leaders on the European market with regards to the number of deployed SFA applications and our solutions are being implemented on the foreign markets.
Source: Portal Spożywczy